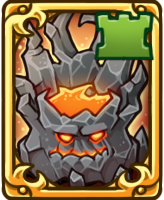 Tower Cards are Battle Cards to be placed on Tower Spots predetermined for each level. Tower Cards have varying ranges for their attacks, and unique Abilities, unlockable by upgrading your Cards. 
Tower Cards can be upgraded during battle. These upgrades, unique to each Card, can be viewed when selecting the Tower during battle. Towers that can be upgraded are marked with plus-signs after they are built. It should be noted that upgrades last only as long as the battle and are not the same as card upgrades done with the Card Upgrader.
Tower Cards are the primary force used to stop the swarms of enemies trying to reach your base. While most Hero Cards are good for melee style fighting, Towers excel at ranged damage. Though they vary in style and ability, most offensive Tower Cards are best for distributing damage against many enemies throughout a wave. Tower Cards have 5 types of Rarity: Common, Uncommon, Rare, Epic, and Legendary.
Towers

[

]
Trending pages
All items (22)