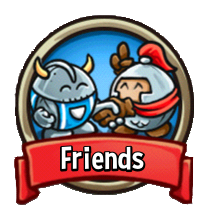 In the King Tower levels, you can borrow a friend. There are two friends built into the game that can be purchased with Gems or the player can call on a friend through Facebook for free.
The two built-in friends are Heroic Helmut and Epic Elmo. Heroic Helmut can be borrowed for 25 Gems and Epic Elmo can be borrowed for 50 Gems.
The Friends feature in the game becomes available once your Avatar has obtained 19 Stars (about midway through Level 4). (As part of the game's storyline, Wolfric appears as a friend on "The Giant's Table" level before he becomes available as a Hero Card).
Friends can be controlled by the player for use in battle the same way as they would Heroes, but only for one time on the level in which they were purchased. The cost to revive them in battle is the same as it is for Heroes.
Heroic Helmut and Epic Elmo level up automatically as the player progresses through the game. Heroic Helmut levels up twice as slow as your Avatar. So if your Avatar is Level 23, Heroic Helmut is only Level 11. If your Avatar is Level 33, Heroic Helmut is Level 16. Heroic Helmut is equipped with Iron Cap, Leather Cuirass, Wooden Shield, and Steel Sword.
Epic Elmo is one level ahead of your Avatar. So if your Avatar is Level 23, Epic Elmo is Level 24. If your Avatar is Level 33, Epic Elmo is Level 34. Epic Elmo is equipped with Dragon Mail, Helm of the Valkyrie, Heroic Halberd, Steel-Toe Boots, and Valkyrie Shield. Listed below are their statistics by level:
Heroic Helmut
[
]
| Level | Health | Melee Damage (Physical) | Resist Physical Damage | Resist Magic Damage | Speed |
| --- | --- | --- | --- | --- | --- |
| 2 | 240 | 17-24 | 12% | 0% | 100 |
| 3 | 260 | 18-26 | 12% | 0% | 100 |
| 4 | 280 | 19-28 | 12% | 0% | 100 |
| 5 | 300 | 20-30 | 12% | 0% | 100 |
| 6 | 360 | 22-33 | 15% | 0% | 100 |
| 7 | 380 | 23-35 | 15% | 0% | 100 |
| 8 | 400 | 24-37 | 15% | 0% | 100 |
| 9 | 420 | 25-39 | 15% | 0% | 100 |
| 10 | 440 | 26-41 | 15% | 0% | 100 |
| 11 | 460 | 27-43 | 15% | 0% | 100 |
| 12 | 520 | 29-46 | 18% | 0% | 100 |
| 13 | 540 | 30-48 | 18% | 0% | 100 |
| 14 | 560 | 31-50 | 18% | 0% | 100 |
| 15 | 580 | 32-52 | 18% | 0% | 100 |
| 16 | 600 | 33-54 | 18% | 0% | 100 |
| 17 | 620 | 34-56 | 18% | 0% | 100 |
| 18 | 680 | 36-59 | 21% | 0% | 100 |
| 19 | 700 | 37-61 | 21% | 0% | 100 |
Epic Elmo
[
]
| Level | Health | Melee Damage (Physical) | Resist Physical Damage | Resist Magic Damage | Speed |
| --- | --- | --- | --- | --- | --- |
| 5 | 310 | 23-36 | 13% | 12% | 101 |
| 6 | 330 | 24-38 | 13% | 12% | 101 |
| 7 | 395 | 26-41 | 17% | 16% | 104 |
| 8 | 415 | 27-43 | 17% | 16% | 104 |
| 9 | 435 | 28-45 | 17% | 16% | 104 |
| 10 | 455 | 29-47 | 17% | 16% | 104 |
| 11 | 475 | 30-49 | 17% | 16% | 104 |
| 12 | 495 | 31-51 | 17% | 16% | 104 |
| 13 | 570 | 34-56 | 21% | 20% | 107 |
| 14 | 590 | 35-58 | 21% | 20% | 107 |
| 15 | 610 | 36-60 | 21% | 20% | 107 |
| 16 | 630 | 37-62 | 21% | 20% | 107 |
| 17 | 650 | 38-64 | 21% | 20% | 107 |
| 18 | 670 | 39-66 | 21% | 20% | 107 |
| 19 | 745 | 42-71 | 25% | 24% | 110 |
| 20 | 765 | 43-73 | 25% | 24% | 110 |
| 21 | 785 | 44-75 | 25% | 24% | 110 |
| 22 | 805 | 45-77 | 25% | 24% | 110 |
| 23 | 825 | 46-79 | 25% | 24% | 110 |
| 24 | 845 | 47-81 | 25% | 24% | 110 |
| 25 | 920 | 50-88 | 29% | 28% | 113 |
| 26 | 940 | 51-90 | 29% | 28% | 113 |
| 27 | 960 | 52-92 | 29% | 28% | 113 |
| 28 | 980 | 53-94 | 29% | 28% | 113 |
| 29 | 1,000 | 54-96 | 29% | 28% | 113 |
| 30 | 1,020 | 55-98 | 29% | 28% | 113 |
| 31 | 1,100 | 58-103 | 33% | 32% | 118 |
| 32 | 1,120 | 59-105 | 33% | 32% | 118 |
| 33 | 1,140 | 60-107 | 33% | 32% | 118 |
| 34 | 1,160 | 61-109 | 33% | 32% | 118 |
| 35 | 1,180 | 62-111 | 33% | 32% | 118 |
| 36 | 1,200 | 63-113 | 33% | 32% | 118 |
| 37 | 1,280 | 67-120 | 37% | 36% | 124 |
| 38 | 1,300 | 68-122 | 37% | 36% | 124 |
| 39 | 1,320 | 69-124 | 37% | 36% | 124 |
Related Quests
[
]
| Difficulty | Quest Name | Objective |
| --- | --- | --- |
| Easy | Companion | Borrow a friend in any King Tower level |
| Easy | Helping Hand | Borrow any friend two times in any King Tower levels |
| Medium | Companion Cube | Borrow any friend three times in any King Tower levels |
| Medium | Furious Five | Borrow any friend five times in any King Tower levels |