Jurassic World: Dominion Dominates Fandom Wikis - The Loop
Play Sound
Description
[
]
"Battle against waves of Undead to win Cards and improve your Battle Deck."
The Undead Arena in Unholy Land can be accessed after passing "The Gates of Solomon's Reach" level.
Rewards
[
]
One random reward Card is won when an Arena map is successfully defeated.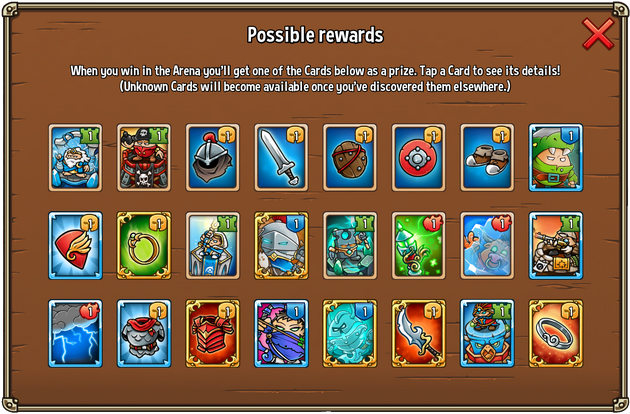 Bonus Card
[
]
An additional bonus Card can be won when the bonus bar is full. This bonus Card will be one of the Uncommon or Rare reward Cards. Each play (win or lose) will progress the bonus Card bar. Each time a bonus Card is received the number of plays needed to fill the bar increases to a maximum of 50 plays.
Different Arena Maps
[
]
Using the Scout Report will tell you which Arena map you have by the amount of available Tower slots. As a general rule of thumb, the more Tower slots there are, the more difficult the map.
You can get 4, 5, or even 6 waves of Undead in the Arena.
| Tower Slots (Version) | Map | Hearts | Initial Mana | Waves |
| --- | --- | --- | --- | --- |
| 8 (A) | | 1 | 550 | 4-5 |
| 8 (B) | | 1 | 500 | 4-6 |
| 9 (A) | | 1 | 850 | |
| 9 (B) | | 1 | 650 | |
| 9 (C) | | 1 | 675 | |
| 10 (A) | | 1 | 1200 | 4-5 |
| 10 (B) | | 1 | 925 | 5 |
| 11 (A) | | 1 | 900 | |
| 11 (B) | | 1 | 700 | 4-6 |
| 12 (A) | | 1 | 600 | |
| 12 (B) | | 1 | 600 | |
| 12 (C) | | 1 | 600 | |
| 12 (D) | | 1 | 800 | |
| 13 (A) | | 1 | 600 | |
| 13 (B) | | 1 | 750 | |
Location
[
]
Related Quests
[
]
| Difficulty | Quest Name | Objective |
| --- | --- | --- |
| Easy | Piles of the Undead | Win 6 battles in the Undead Arena |
| Easy | Say No to Dark Magic | Win "Undead Arena" without using Spell Cards |
| Easy | Tales from the Crypt | Win 5 battles in the Undead Arena |
| Easy | Un-Holy Arena | Win "Undead Arena" without using Holy Towers |
| Medium | Down in the Bonehoard | Win 10 battles in the Undead Arena |
| Medium | The Unholy Gladiator | Win 12 battles in the Undead Arena |
| Medium | Undead Tower Arena | Win "Undead Arena" using only Tower Cards |
| Hard | Bone Grinder | Win 7 battles in the Undead Arena |
| Hard | Knee-Deep in the Dead | Win 15 battles in the Undead Arena |
| Hard | Undead Army | Win 25 battles in the Undead Arena |