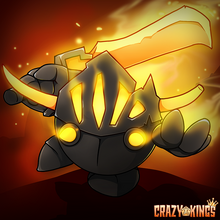 Greetings, young Hero!
So you've chosen to ally yourself with the Crazy Kings Community? A wise choice indeed! Here on the Official Crazy Kings Wiki, we encourage courageous Heroes like yourself to engage with the community in order to help ensure a triumphant victory against the league of Crazy Kings.
Contact
[
]
We are also happy to say that this is a space where developers and players cross paths. If you have an concerns that should be discussed privately, please do not hesitate to contact us directly at the email:
crazykingswiki[a]wooga.net 
Keep in mind we try to be as open as possible on the Wiki, even among admins. We encourage minor issues and questions be directed to the Message Wall. 
Support
[
]
Having technical issues with the game? We got you covered. Check out our FAQ Support to see if your question has already been answered. 
Useful Pages
[
]